Equal commitment to actions and relationships,
never compromising one for the other, is the key to success.
The 100/0 Principle will help you achieve
what you want in all domains of your life.
Find out what it is, and how it works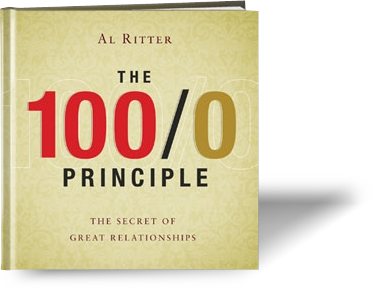 When you look back at the end of your life - personal and professional - what will really matter?
It's simple: the quality of your relationships.
Some years ago, we were fortunate to work directly with John Wooden, former basketball coach at UCLA and winner of 10 NCAA championships. We asked him the secret to his masterful success. He said, "Most coaches have one commitment, and that is to winning. I had a dual commitment – to winning, and also to relationships – and I was equally committed to both."
We have shared Coach Wooden's lesson with all of our clients, across many industries, for more than 20 years. His approach to success has played significant role in our leadership, teambuilding, strategy implementation and speaking programs. We've helped thousands of business leaders reach unprecedented, sustainable levels of sales and earnings.
We have learned that relationships play a much larger role in success than skills and knowledge.
The 100/0 Principle is the quickest, most effective way to fulfill the commitment to powerful relationships.
---
Learn how you can use The 100/0 Principle to reach your goals